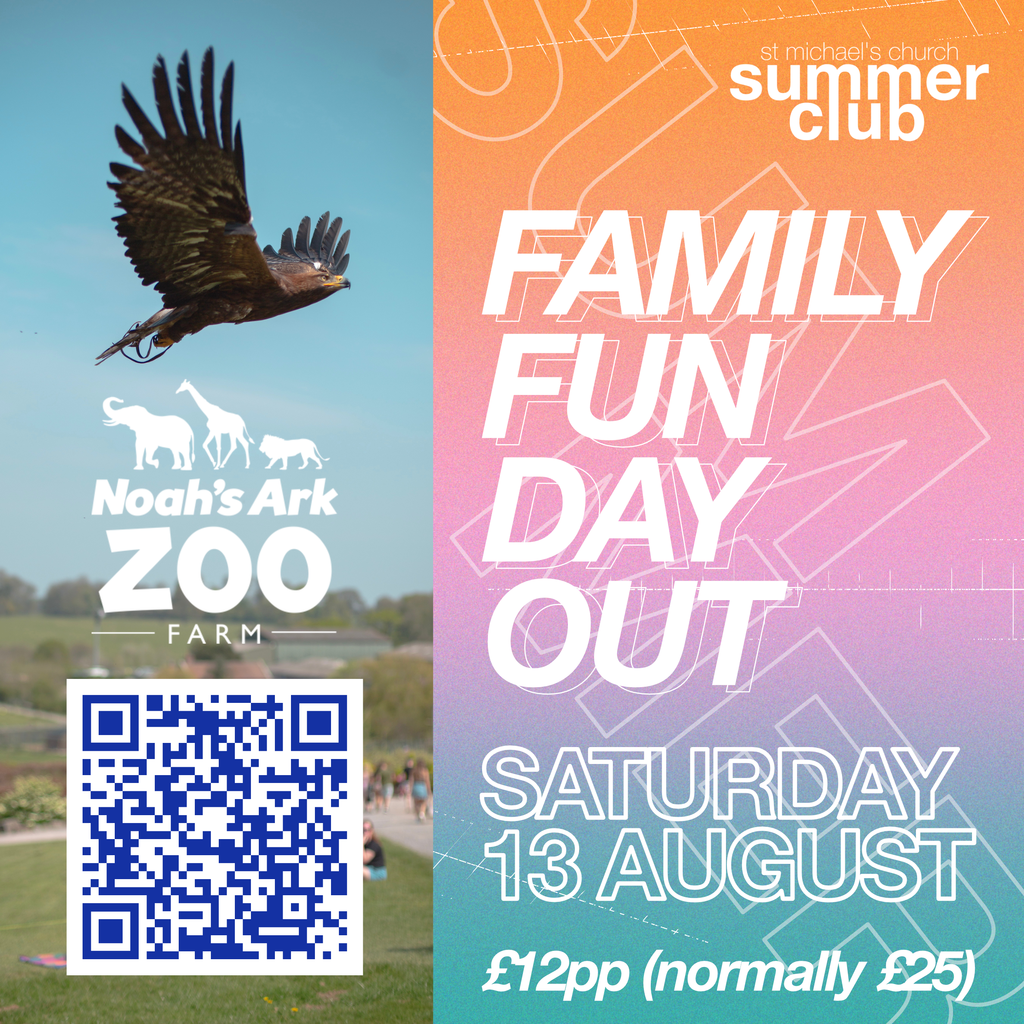 About
Family Fun Day Out @ Noah's Ark Zoo Farm
This Family fun day out is part of our Summer Club but is for any one who has come to St Michael's Church or just wants to come to Noah's Ark Zoo farm with us. We want to see all the tickets go, so share with your neighbours and friends.
Parents will be responsible for their children and young people. The St Michael's Team will not be responsible for you during the day apart from sorting the tickets at the beginning of the day so children and young people must only attend under the supervision of an adult (parent or guardian or family friend with parental consent).
On the Day:
Once you have booked in and got the confirmation email you will need to come and show it to one of our team who will be waiting by the Farm Shop or if you have a physical ticket just show us that. outside the ticket office (car park side) and they will give you a physical ticket to give in at the ticket booth allowing you through to Noah's Ark Zoo Farm.
Arrival Time:
Please meet us at the farm shop near the top of the car park at 11am so we can all walk down and go through the ticket office at the same time. Please don't be late. 
Prices:
Under 2's – FREE
Over the age of 2 – £12
You need to buy tickets for everyone that will be coming with you on the day that is over the age of 2 years old.
Please pay via churchsuite and the payment option on the ticket itself if you want to pay by cheque or other method please get in contact ASAP. We are sorting prepaid tickets and will pay Noah's Ark in on lump sum to save them time at the gate. 
We will also have use of the Lemar Lawn which is up the path next to the Emu's if we want to meet for lunch as a group at 12:30pm. We will not be providing lunch so you will need to bring your own or get lunch from their amazing café 🙂
Any questions please contact Sam (sam.clarke@stmichaelsbristol.org)
from
St Michael's Summer Club Team