The Learning Environment
At St Michaels Church Pre-School and Nursery we advocate that babies, toddlers and young children thrive best in an environment that supports and promotes active learning and development.
Young children require space, both indoors and outdoors, where they can be active or quiet, and where they can run, jump, cosy up, think, dream and watch others. Throughout the day children free-flow between rooms and enjoy experiences which are both planned by practitioners and chosen by themselves.
The learning environment is organised offering a child-centred environment in which the children's needs and views are reflected in the layout. Therefore all storage, resources and equipment is at child level and all chairs and tables are child sized. Allowing children access to all resources empowers them to be independent and limits adult's intervention so they can choose what they like to do and when.
The Curriculum
St Michael's Church Pre-School and Nursery adheres to The Early Years Foundation Stage (EYFS) Curriculum (Department of Education 2012). This Curriculum is the first stage of the National Curriculum focusing on the distinct needs of children from birth to the end of their reception year at Primary School. Further information on the EYFS can be found on the website www.foundationyears.org.uk
How the Curriculum works
The focus of the Curriculum is initially placed on children's development in Prime Areas, these areas are seen to be fundamental to support development for future learning.
Prime Areas are:
Personal, Social and Emotional Development
Physical Development
Communication and Language Development
As children become more confident in these Prime Areas of development, Specific Areas are introduced. These areas enable the children to prepare for future learning and ensure that they are able to participate successfully in society.
Literacy
Mathematics
Understanding The World
Expressive Arts and Design
Each learning area has Early Learning Goals. These set out the skills, attitudes, understanding and knowledge which children should reach or exceed by the end of their Foundation Stage. The Early Learning Goals are broken down into Development Statements, the likely stages of progress a child makes along their learning journey towards the Early Learning Goals
How we implement the Curriculum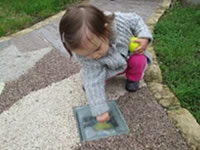 Our setting adheres to the Early Years Foundation Stage Curriculum to plan and provide a range of interesting play experiences, which are appropriate for the children's age and stage of development. These experiences help children to make progress in each of the areas of learning and development. The high level of adult involvement that we use ensures that all children are supported in developing to their full potential at their own pace. In some of these activities children decide how they will use the activity and in others, an adult takes the lead in helping the children to take part in the activity.
Play is at the heart of The Early Years Foundation Stage and is how children learn all about the world around them. This is why a large part of each session is therefore given over to free-play. This gives children the opportunity to decide what they would like to play with, to develop and encourages their independence, to practice and build up ideas, concepts and skills as well as allowing them to express their emotions. Practitioners are there to support children in their free play by introducing new ideas and acting as language partners.
Assessment
We assess how young children are learning and developing by observing them frequently as they play. We use information that we gain from observations, as well as from photographs and artwork that the children have created at Nursery, to document their progress. This document forms part of your child's learning journey and is presented on the Tapestry app that is completed by your key person. The Profile contains many key moments that your child has taken part in during their time at St Michaels Church Nursery.
At the end of each term you will be provided with a summary of your child's achievements during that term. The observations and achievements together have been used to work out the next steps of progress that your child's key person is planning to work on with your child in the following term. We ask that you add your comments to the summary, together with any interests that your children have at home and that you would like your key person to include in their plans. We really love receiving your comments on your child's development and will use this together with our observations to discuss how we can all work together to support your child's development and learning.